This course in Business Ethics examines the following:
Why do organizations bother with ethical standards?
Is business ethics the same as Corporate Social Responsibility?
Is business ethics the same as compliance?
Improve understanding of advanced business ethics!
The relationship between ethics and personal responsibility
The course also examines areas that are too new, or too controversial, for society to agree on. Business ethics reflects the philosophy of business, one of whose aim is to determine the fundamental purposes of a company. If a company's purpose is to maximise shareholder returns, then sacrificing profits to other concerns is a violation of its fiduciary responsibility – where does this like on the business ethics continuum?
Objectives
The objectives of this two-day course are to embed the principles of business ethics and to provide an understanding of: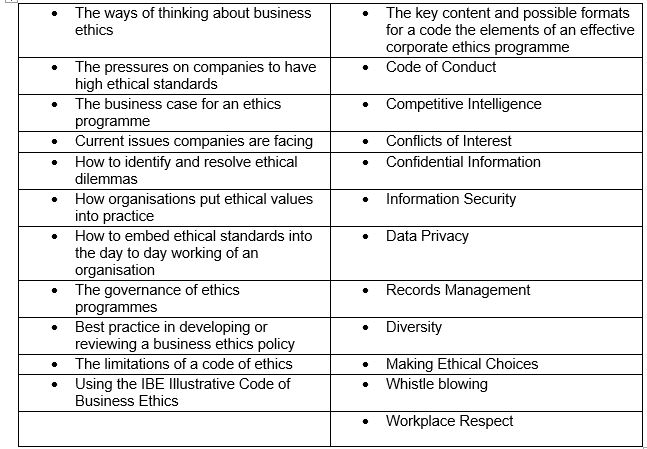 WHO SHOULD ATTEND
The course is designed for:
Anyone interested in finding out about business ethics
Legal departments and ethics practitioners who want to update their understanding or who are new to their roles
Employees, particularly managers, wanting to understand how organizations can put ethical commitments into practice
Those who have responsibility for producing and implementing an ethics policy
Other professionals interested in the relationship between financial performance and ethics
Senior managers/Board members requiring an understanding of ethics
LEARNING OUTCOMES/OBJECTIVES
On completion of this course, participants will have developed competencies that will see them flourish in their careers and become valued employees.
In particular, they will:
Develop the competency to identify and resolve ethical dilemmas
Acquire the competency to put ethical values into practice
Have the competency and confidence to embed ethical standards into their own and the day to day workings of an organization
Develop the competency to design, present and implement an ethics programmes
COURSE CONTENT
Day One:
The ways of thinking about business ethics
The pressures on companies to have high ethical standards
The business case for an ethics programme
Current issues companies are facing
How to identify and resolve ethical dilemmas
How organisations put ethical values into practice
How to embed ethical standards into the day to day working of an organisation
The governance of ethics programmes
Best practice in developing or reviewing a business ethics policy
The limitations of a code of ethics
Using the IBE Illustrative Code of Business Ethics
The key content and possible formats for a code the elements of an effective corporate ethics programme
Day Two
Competitive Intelligence
Conflicts of Interest
Confidential Information
Information Security
Data Privacy
Records Management
Diversity
Making Ethical Choices
Whistle blowing
Workplace Respect
Adequate disclosures and effective decision making to achieve corporate objectives
Transparency in business transactions
Statutory and legal compliances
Protection of shareholder interests
Commitment to values and ethical conduct of business
Date: 21st – 22nd March 2019
Location: Four Points by Sheraton Plot 9/10 Block 2, Oniru Chieftaincy Estate, Victoria-Island Lagos.
Course Fees: N199,750
10% Early Bird Discount:
For companies that register 3 or more participants and individuals who register before 18th February 2019.
Training Provider: GUS Consulting Ltd. in partnership with Jasper International Academy
Course Facilitator
This course will be delivered by Dr. Marshall Potts, an International Business Consultant, and Management Development Specialist. He has extensive experience in Human Resources Management, organizational and personal development.
Dr. Potts is a Member of the Institute of Business Ethics and Global Ethics Net Geneva amongst other professional memberships.
With a background in Personal and Business Psychology – Transformational Organisational Change – Leadership, Management Development, and Learning, he has the credibility to influence senior decision makers, as well as the international business and training experience to make this course both memorable and informative.
Share This