DO EMPLOYERS STILL CARE ABOUT COVER LETTERS?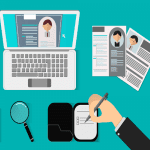 Yes, they do!
Many candidates pay less attention to their cover letters because they feel cover letters are outdated and a waste of time. An employer or hiring manager who advertises a position expects to see the uniqueness in you and why he or she should hire you. Therefore, for your CV to get a second glance, your cover letter must be alluring. A generic cover letter won't do the magic!
Any time you apply for a job, just assume someone reads the cover letter. Don't make the mistake of sending your CV without a cover letter. It is not so hard to include one since you can make it the body of the email your CV is attached to.
Keep it short and succinct. Four to five sentences will do. Long cover letters are not necessary. Make sure it addresses the following:
Who you are
What you have to offer
Why you seek the job
This is the opportunity to sell yourself. It is not the time to tell stories about your educational qualifications and skills. That is what your CV is for!
A cover letter:
Bridges the gap between your CV and the employer.
Shows the employer that you have something to say and you are interested in working for the company.
Says what your CV cannot. Here you can emphasize a specific skill or achievement that is relevant to the position you are applying for.
Speaks directly to a particular employer. It is hard to tailor your CV for every single job you apply for. But with the cover letter, you can modify the information to suit a specific reader.
Even if you think it hurts, take out time to pen the best cover letter you can!