DEAR HIRING MANAGER: INTERVIEW FEEDBACK MATTERS MORE THAN YOU THINK!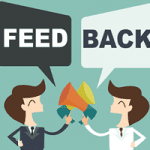 One frustration candidates face while job hunting is not hearing from the interviewer even after a second interview.
"We will get back to you"
How many times have you said this to a candidate and never follow through?
"They will get the drill, if I don't call back that means they didn't make the cut"
"I don't want to be the bearer of bad news"
Just so you know, using silence as an interview emissary is neither the best. Of course, no candidate wants to hear that he didn't get the job, especially if he thinks he nailed the interview. But still, it is unfair to leave the candidate with mixed feelings wondering if he actually scaled through the interview or not. If you have interviewed him and you are sure he is not fit for the job, gracefully let him know as quickly as possible. Rejection is easier to deal with than being ignored.
Why is it important to give feedback after an interview?
It is a great PR tool for your company
Good impression does not apply to job seekers alone but employers as well. With the advancement of social media, news flies faster than you can imagine. A candidate with one bad experience will tell 9 out of 10 others about it and before you realize, it is all over the place. Word of mouth can make or mar your company image.
It gives the candidate some closure
When you tell a candidate 'We will get back to you' he becomes optimistic especially if the interview looked promising. He could also hold back on applying for new roles or even accepting a job offer because he is expecting to hear from you. Therefore informing him that he did not get the job, will allow him to chase other opportunities.
It is a sign of respect
Even if not for anything else, it shows you respect the candidate as an individual. You need his skills and services and on the other hand, he needs your job. Even if it doesn't end as expected, it should at least end on a mutual note.
It will help you build a future talent pipeline
The way you treat a candidate during the hiring process goes a long way. Even if you did not hire him, don't burn the bridge. You might need him for another role in the future especially if he is a high caliber candidate.
It is quite understandable that you are busy, but sending a quick email to a candidate you just interviewed saying 'Thank you for your interest in our company. While we acknowledge your skills and competencies, we are sorry to inform you that you didn't make the list' won't take the whole day.
On the other hand, if at the end of the interview, you are certain that you won't hire the candidate, then it is best not to give him hope by saying 'We will get back to you' a simple 'Thank you for attending' will do.