Nigeria made N7.3tr from oil in 2017- CBN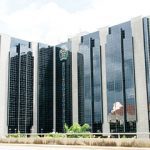 Nigeria's total revenue from crude oil rose by 29% to N7.3 trillion in 2017, reflecting the impact of increases in production and in crude oil prices, Vanguard reports.
The revenue from oil represented 69% of the total federation revenue, which rose by 22% to N10.6 trillion in 2017. However, the deficit spending by the federal government rose by 22% to N2.7 trillion during the year. This was disclosed by the Central Bank of Nigeria (CBN) in its Economic Report for the fourth quarter of 2017 released last week.
Analysis of the report showed that oil revenue into the federation account rose to N7.34 trillion in 2017, from N5.68 trillion in 2016. Non-oil revenue also grew by 17% to N3.24 trillion in 2017 from N2.98 trillion in 2016. The CBN report however showed a decline in both oil and non-oil revenue in the fourth quarter of 2017.