HOW TO MAKE YOUR CV STAND OUT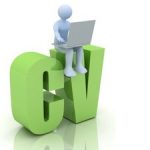 The difference between who gets invited for an interview and who does not is having a winning CV. Your CV is the first opportunity you have to present yourself in the best possible way and get the initial foot in the door.
Your CV is your representative, so it must convey who you are, your academic and professional achievements, your professional goals and aspirations. Not only should it do all these, it should also be able to capture the hiring manager's attention in a few seconds because there are thousands of CVs on the waiting list.
For your CV to stand out from the crowd, it must:
Have a Good Flow
Use a good CV format that flows seamlessly from the introduction to areas of expertise to work history to education and professional affiliations. Determine the order in which you list education and work history, based on your career level.
Fresh graduates or new entrants to the workforce should place education and academic qualifications above work history. For experienced workers with more than 15 years experience, a good format is one that showcases your professional competencies, instead of a lengthy work history that might bore the hiring manager.
Be Error-Free
Your CV should be presented in a clean and easy-to-read format with sections appropriately labeled. It should be free of typographical errors and centered on the page so that it doesn't look muddled. A typo, inconsistent spacing, or any other flaw tells the hiring manager that you don't pay attention to details. That's a bad message to send across. Eliminate all imperfections from your CV, you can also get someone to proofread it for you.
Use Buzzword
Using strong buzz words to describe yourself, highlighting your experience and showcasing your achievements will increase your chances of getting hired. Avoid using common or overused buzz words as it won't make your CV look any different from that of the next candidate. Be creative!
Emphasize Results Rather than Responsibilities
Instead of just listing your past responsibilities, make your CV stand out by highlighting your results and accomplishments. Ensure that you use quantifiable data to show off your accomplishments.