5 WAYS TO MAKE A STELLAR FIRST IMPRESSION AT AN INTERVIEW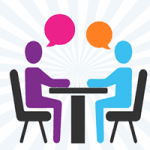 When it comes to first impressions, you only get one quick shot which starts and finishes in a matter of a few seconds or minutes. Good first impressions set the tone for the rest of the interview.
This is how to make a killer impression that actually sticks without leaving a bad taste in the mouth of your interviewers.
Dress appropriately: The first thing about making good first impressions is dressing appropriately for the occasion. Your physical appearance is a nonverbal signal that tells a lot about your sense of professionalism, personal grooming, and overall self-confidence.
Talk moderately: Are you always in the habit of domineering conversations or finishing up people's statement? It is rude to interrupt others while they are talking as this can spoil the train of thoughts. You will be easily perceived as a cocky person. Speak softly with the right voice projection, don't be too loud and don't make listening difficult for the other parties by speaking too low.
Manage your facial expressions: Your facial expression gives up your true emotions or how you feel about a particular situation. Do not let your emotions leak out. Keep a warm smiling face but try not to look like a clown.
Maintain eye contact: When you are talking to the interviewer, look them in the eye, do not let your eyes wander all over the place. Exude confidence by maintaining eye contact.
Don't give one-worded responses: One-worded responses are conversation stallers/killers. For instance when asked, 'what do you do in your spare time?' don't just give off a bland, 'I write'. Try something like, 'I write in my journal because I love the power it gives me to express myself and share my thoughts.' This gives room for more conversation.
Are you ready to knock the socks off your next interview with a killer first impression?