5 INTERVIEW BLUNDERS HOLDING YOU BACK FROM YOUR DREAM JOB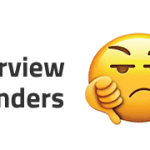 Getting a job goes beyond having a great CV. The only thing a great CV will do is give you a rite of passage to meet the recruiter one on one. What happens next depends on how well you demonstrate your suitability for the job.
If you still haven't landed that job after attending several interviews, this is what you might be doing wrong during an interview:
You give away too much information
While trying to impress your employer, it is easy to go overboard. Saying too much can turn off a recruiter, especially if he feels you are touting. Let's take for example, an interviewer asks you to tell him about yourself, you go on to tell stories about your childhood, origin, schools attended etc. How do you think the interviewer will feel?  They don't have all day to listen to your crap!
Avoid divulging unnecessary information instead focus on things directly related to the position you are interviewing for, such as; your area of specialty, work history in a nutshell and your unique selling points (soft and hard skills).
You fail to sell yourself
When an interviewer throws a question at you, he expects a valid answer accompanied by enough examples, because his hiring decisions will be centered on your answers. Half-baked answers will not do you any good, so make sure you provide the most appropriate responses and make the strongest case as to why your skills and experience is the best for the role.
You let your phone interrupt
Okay, so you forgot to turn off your phone before getting into the interview room? Wheww! Mobile phones and interviews don't just mix. It is even worse when you actually answer the phone in front of the interviewer. That is offending and so inappropriate.
If you can't turn off the phone at least place it on 'Silent' or 'Vibrate only'. However, if your phone's vibration is like an earthquake, please place it on silent to avoid scaring off the interviewer.  If it happens that your phone miraculously rings after you thought you turned it off, don't pretend it didn't happen. Acknowledge your mistake and apologize.
Bad mouthing your past employers
Because your relationship with your former boss hit the rocks before you left does not give you the right to bad mouth him or her in front of your potential employer. It doesn't give you an edge, rather will make you lose your chances of getting hired as the potential employer may be worried you'd have no good thing to say about them too if you eventually leave their company.
Focusing more on what the company has to offer you
Yeah, the pay matters, but do not let that be the centre of your discussion. Talk more about what you can do for the company and why they should have you on their team. Focus more on what the interviewer is saying.
Break a leg next time you step out for an interview.