HOW TO BE THAT COLLEAGUE EVERY ONE ADMIRES AND RESPECTS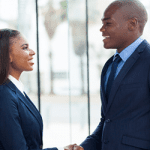 Ever wondered how your co-workers perceive you? Are you that frustrating colleague everyone avoids like a plague?
Asides striving to be good at your job, gaining the respect and admiration of the people you work with is likewise important.  Wouldn't it be nice to be that co-worker everyone holds in high decorum and when you stand up to give a pitch people listen? As nice as it looks, people who have attained this level of respect from their colleagues didn't just do that overnight. They worked very hard to get there. Guess what? You can too!
These tips will help you put your best foot forward and become that office sweetheart every one respects:
Display self-confidence
Office sweethearts don't have low self-esteem. If you want to earn respect you have to purge yourself of every doubt and build your confidence. Your level of confidence should show in your behaviour and body language, the way you talk and handle situations as well as the way you dress.
Be a hard worker
This doesn't mean you have to work when you are not supposed to, work late night or break your back to impress people. Just put in effort in the work you do. Do not lazy around distracting others when there's work to be done. Neglecting your responsibilities or coyly leaving it for another person to do will not portray you as smart but lazy and irresponsible. Nobody loves to roll with a Lay about unless of course, they are the same.
Extend a helping hand
Be sensitive to the plight of your co-workers. If you notice he/she could use a little help then offer to do so. Even if they don't take you on the offer, the gesture will be appreciated. People always remember and respect those who help or push them to success.
Never take all the credit
Don't be that greedy co-worker that takes all the shine even when he didn't complete a task on his own. If you worked as a team or a colleague contributed to the success of your tasks, appreciate and acknowledge them.
Don't be pushy with your ideas
Don't shove your ideas down the throat of your coworkers no matter how good you feel they are. Others have great ideas too so give them a chance. People love when they are allowed to express themselves or when their opinions are heard.
Radiate joy
Happiness and laughter are as contagious as a gloomy look. Your smile and show of concern can brighten someone's day and make them feel more at ease.
When you step into the office, don't just walk past your colleagues without a 'Hi'. Greet them and initiate a few seconds chit-chat. Be careful with this one so you don't end up as the office chatterbox. Do this only when necessary and while you are it don't turn the office into a gossip zone. Keep it short and simple.
Reach out to the newbies
Remember you were once a newbie too. What did older co-workers do to make you feel welcome? Even if they didn't do much, here's your chance to create a better impression. Help them fit in by striking conversations or offering useful tips to help them get around.
Apologize when you are wrong
Don't be a narcissist or a perfectionist. When you make mistakes admit them, apologize and make amends.