ARE YOU A TEAM PLAYER?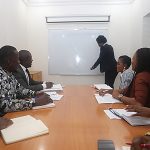 Almost every CV has the 'I am a team player' line. Are you really a team player? Do you even understand why you need to be a team player? Most candidates, when asked to describe how well they worked in teams at past roles, always seem to meet their Waterloo.
Your job may require that you perform specific roles or responsibilities but you cannot achieve that as an island. Teamwork is important to the success of any organization. The roles and duties of various units in an organization often overlap. Consequently, there has to be a synergy starting from the front desk to the higher management cadre in order to achieve productive results.
If you are a team player, it will be evident in the core abilities and skills you possess and these are the skills hiring managers or prospective employers look out for as they review your CV or interview you for a job opening.
Don't list "Good team player" as a skill on your CV until you can answer these 8 questions below. Your answers will determine how good you are working in teams.
Are you comfortable working with others or a lone wolf?
Can you communicate information effectively to both superior and junior colleagues?
Do you find it easy or difficult recognizing other people's viewpoints or do you insist on having it your way because you feel your ideas are the best? Does the opinion of others count?
As a team leader, do you delegate duties and responsibilities?
Asides being an active individual, are you also an active member while working in a team?
Can you convince others to follow a cause that they otherwise wouldn't have followed?
Can you motivate people to success?
Can you deal with difficult people without losing your cool?
Does it say you are a team player? Good!
Showcase this skill in your CV and during the interview. The hiring manager will not be impressed with your casual "I am a good team player". He wants to see one or two instances where you demonstrated the said skills. Go prepared with examples of previous tasks you successfully carried out with your team. Highlight the roles you played and how instrumental you were to the team's success. You do not have to tell a long story. Be simple, direct and focused on examples that are relevant to the role you're vying for.